Williston Community Food Shelf The Williston Community Food Shelf is a 501(C3), tax exempt, 100% top-to-bottom volunteer-run organization dedicated to the elimination of hunger in the towns of Williston and St George. Since our inception in 2008, our mission is to provide high quality food and important connections to essential support services to those in need in our community.
Our clients include elderly folks on fixed incomes, neighbors with disabilities, and working families whose paychecks don't cover necessities, though we serve anyone in need, without question or financial information. 16% of Williston's 10,000 residents have incomes low enough to qualify them for participation in the federal nutrition assistance programs such as 3SquaresVT.
From January-July, 2019, we have served 1675 families, representing 4,970 individuals. Of these, 665 are senior citizens and 1730 are children. In 2008/2009, we served a total of 3500 families. In our 10 years, we have served 73,000 people!
For more information on how to donate or volunteer, please visit our website.
Williston Police Officers Association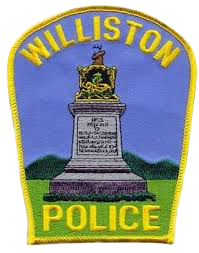 The Williston Police Officers Association is a non-profit organization that uses monies to make annual donations to The Special Olympics Law Enforcement Torch Run and local fundraisers. The Association also provides its members with gifts for special events such as births or in times of mourning or health/medical issues. These gifts include teddy bears, flowers, cards, fruit baskets and monetary donations to help curb the costs associated with extensive medical issues.